History, castles and more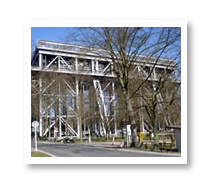 Day Trips – Tour Options
Visit Potsdam with its numerous palaces and gardens. Palais Sanssouci, the German Versailles, the Chinese Teahouse, the New Palais, as well as the beautiful gardens created by Peter Joseph Lenné that invite you to unwind.
Palais Cecilienhof, home of Crown Prince Wilhelm Hohenzollern and venue of the Potsdam Conference in 1945, houses a great exhibition about the historic meeting between Truman, Churchill and Stalin.
Further tour options for day trips:
• Peenemünde
• Memorial Sachsenhausen
• Ship Hoist Niederfinow
• Lutherstadt Wittenberg
Ask for your obligation-free offer!